A book series that introduces the history of cities that people visit. Each book is named after the nickname of the city to differentiate from other travel, history books and tie into to the idea of 'history'. The whole aesthetics of the series plays with bold text, overlaying vibrant accent colors, and my own images.
A modern phone case brand that values aesthetics and simplistic design but still embraces the mixture of gradients and geometry into the distorted world of glitches. A complete project created from scratch, from the development of the physical phone cases to creating the brand language to producing the user interface elements.
A minimalistic travel magazine that follows my thanksgiving trip to Upstate New York, featuring photos that I captured. Through different layouts and pages, the magazine introduces different coffee shops, restaurants and places to go in each of the cities.
A Healthy Lifestyle App that realizes the busy life of young adults and is dedicated to improving their lifestyle through simply logging their life and achieving set goals of calories, exercise and water consumption. This allows an easy tracking of everyday life and allows them to see improvement throughout time in a chart.
An infographic book on Tourism and how it affects the world, whether it is affecting the economy or employment. This book not only gives information and facts about tourism throughout the world, it also focuses on the top 5 most visited countries and more statistics on them. The visual concept of this book revolves around luggage tag graphics and the flight control screen.
09062016
2016
A fun, experimental poster representing a day of my life, featuring photos. After playing around the composition and selecting 5 photos for this poster, I came up with a repetitive box-focused theme with interesting cut outs and text hierarchy.
A hundred day challenge that emails you a open ended prompt everyday for you to design a user interface screen. I have fun experimenting, getting inspired designing a simple screen to improve my technical eye and skills throughout the days.
A web-based simple and easy collaborative trip planner that allows you to keep all your trip details and bookings in one place. Not only can everyone on the trip see the newest update for the trip itinerary, they could also sync their flight and hotel details onto the page. To get inspired, users can save popular attractions to organize into specific days in their itinerary, or explore itineraries of other's successful trips, easily copy them and edit them to your liking with a simple click. Also meet new people with Viken and request to join people's fun public trips coming up.
A four page event website for the increasing trend of design's importance in the business and startup world. Inviting speakers including Alexa Andrzejewski, Joe Gebbia and Brandon Kowitz, the website introduces the event and schedule through a gradient color aesthetic.
A Zine collaboration on Famous Designers, where I designed a spread on Alvin Lustig and conceptualized the front cover and content page. The zine is both photo-copied in black and white and published in full-color digitally. Hence, we had to design for black and white and color. After researching about the designer and understanding his style, I developed different designs and then refined a final solution.
Branding for the fictional Olympics Games 2020 if it were in Taiwan. The print collateral revolves around the logo identity representing the Chinese character "灣" ("Wan") as well as depicting abstracted graphics of water, sports and track and field. Utilizing and repurposing the graphic elements into patterns, I created the program, tickets and website for the event.
A rework of an old flyer project in gif form, interpreting and producing 'dynamic' and 'still' of the futurist movement into 2 static and 2 motion posters. I focused on the issue of the lack of community within the graphic design department and hence creating the Creative Workspace.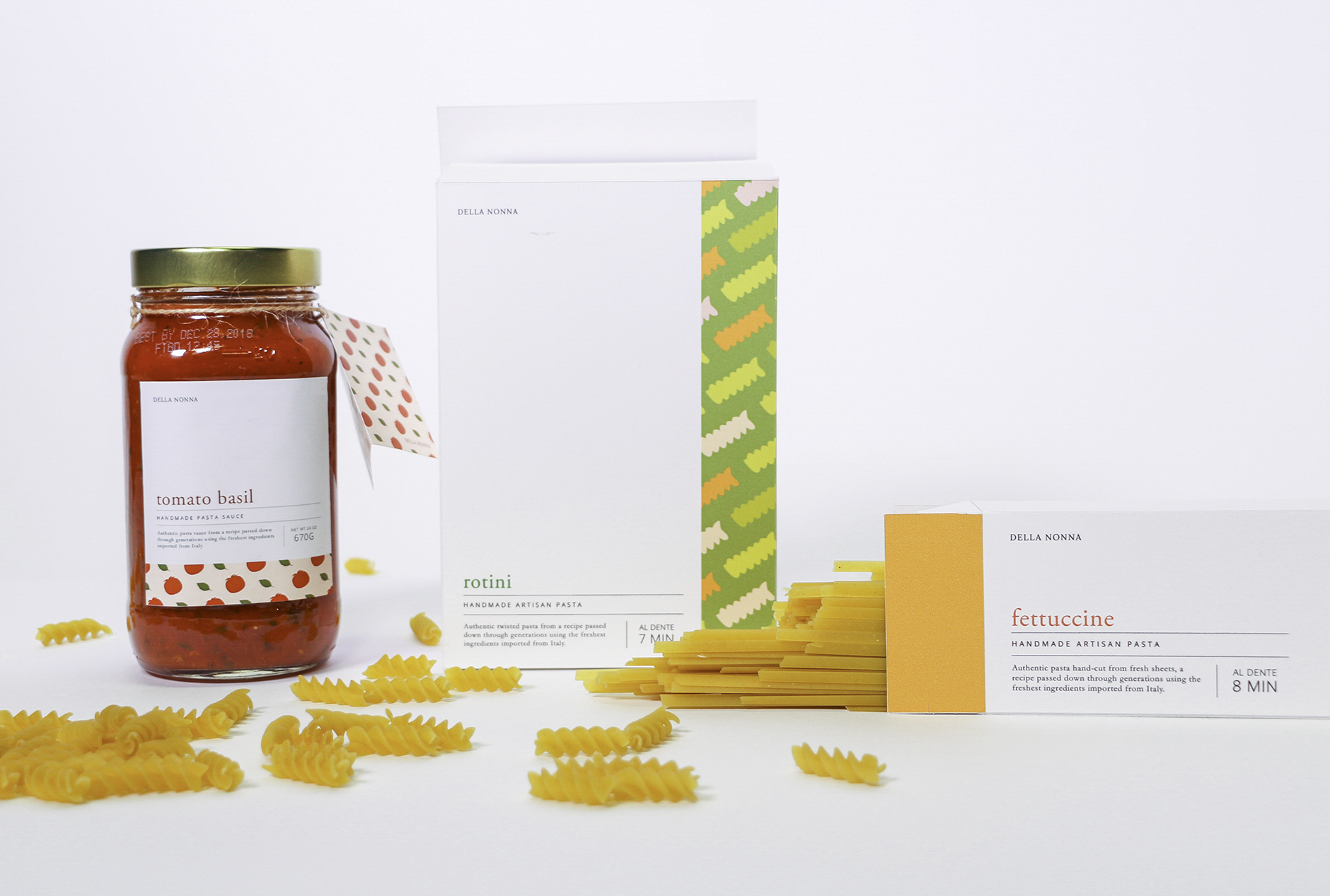 A modern and clean pasta packaging design for Della Nonna, an authentic pasta and sauce brand passed down through generations using the freshest ingredients imported from Italy targeting a younger market.