Preferred Return
Preferred Return is a tech-enabled financial services company focused on providing fast, airtight valuations for tax compliance pruposes. During my internship at Studio Rodrigo, I spent a large amount of time working on Preferred Return, redefining their brand language, designing their marketing website, redesigning and producing an interactive report and helped with elements of their on-boarding product.
Client
Studio + Role
Studio Rodrigo, Designer
Skills
Identity
Product
Responsive Web
Print
BRAND GUIDELINE
As we were designing their marketing website, We developed a brand and brand language for Preferred Return. We created a simple brand guideline to communicate their visual language; touching upon the various wordmarks, rules, typefaces, colors and their key line element. We made sure that all the brand elements were shown in-use and explained.
ON-BOARDING PRODUCT
The on-boarding product allows users to apply to Preferred Return for their 409A. It has an entire flow of uploading files and tracking progress. There are certain small elements that was fun to design within the clean interface, such as the custom date picker and the browser error message. We also had to apply the new brand identity into the product.
INTERACTIVE REPORT
Preferred Return's 409A report communicates a company's value and share values.
UX Challenge The original report did not have sections or a understandable flow and the results were buried in large bodies of text and formulas; the clients were not able to understand the report and this resulted in 3 hour phone calls with each client.
UX Solution We broke down the report into clear sections and sub-sections, and collaborated on organizing a coherent order. On top of that, we have a clear result summary on top of each section and the user can read more on how they got to the result underneath. We also processed FAQs and integrated them within the report in hope to reduce call time with clients. In order for the user to navigate through the intensive report, we visualized the report flow and the results is shown when hovered.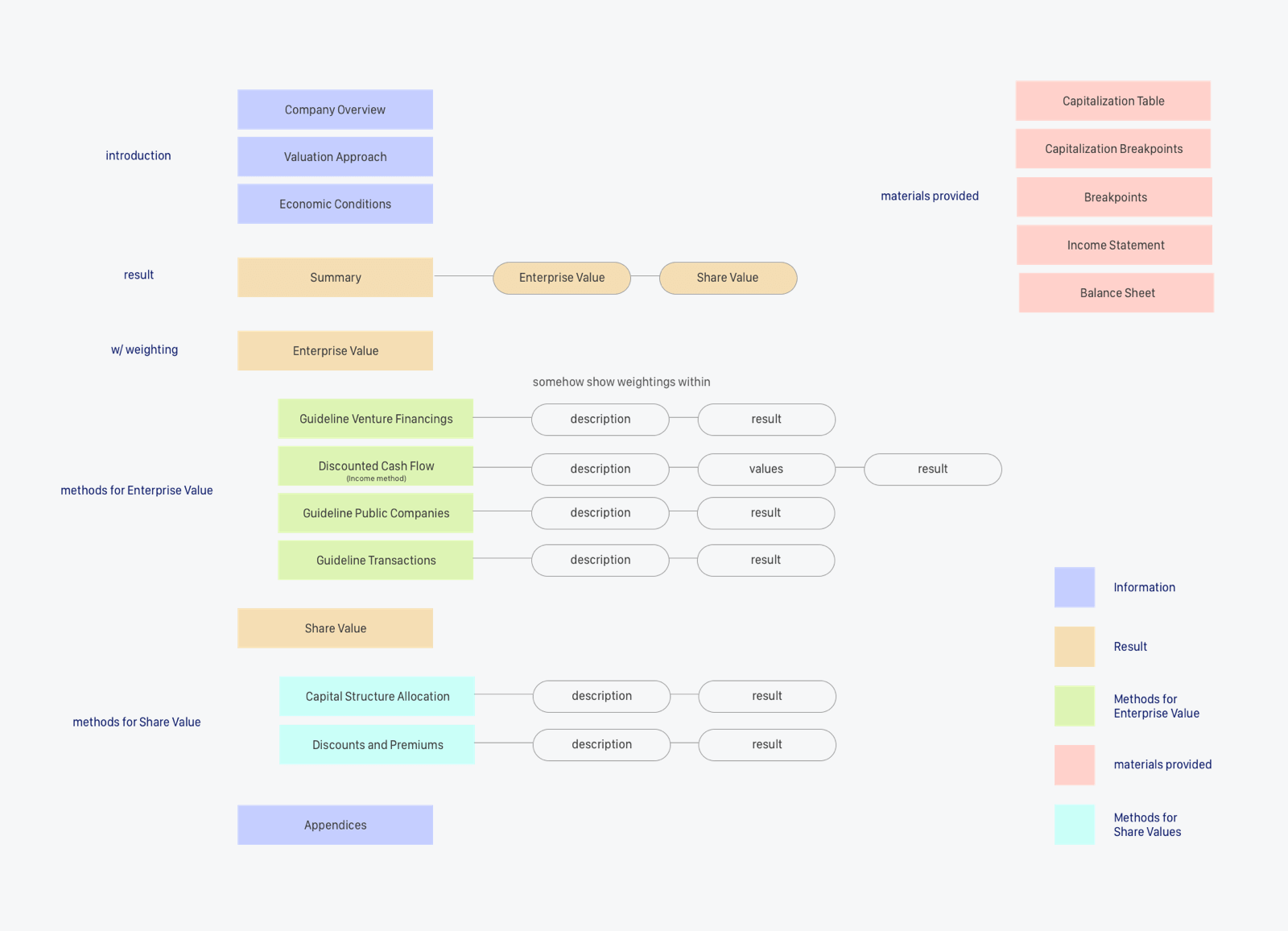 Breakdown of Report Sections to visualize and understand.
MARKETING WEBSITE
We helped redesign their marketing website where we introduced the key line motif of connection, process and growth, that agglomerates into the background pattern. These lines guides our eyes down the page as well as subtly break certain sections of the page. The overall feel of the website is easy to navigate, light and paper-like, resembling the traditional report.
BLOG EDITORIAL
After redesigning the report, it made sense that Preferred Return will be providing supporting articles and guides for businesses to help them with understanding reports, knowing when to valuate their business, and other insights. To help users easily grasp how relevant the article is to them, we included a summary box on top of each article and an estimate reading time. We also introduced new graph and table styles that would support the editorial materials.
Team
Strategist — Ritik Dholakia
Lead Designer — Jon Chonko
Designer — Juliette Wang
Designer — Connie Chu